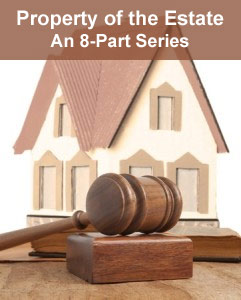 #4 of 8 in Series — Previous Article #3: Debtor Responsible for Accuracy of Bankruptcy Filing Regardless of Legal Advice
Judicial estoppel "is an equitable concept providing that a party who prevails on one ground in a lawsuit may not in another lawsuit repudiate that ground." United States v. Christian, 342 F.3d 744, 747 (7th Cir. 2003)[4]. This doctrine's purpose is "'to protect the integrity of the judicial process' by preventing litigants from 'deliberately changing positions according to the exigencies of the moment.'" Matthews v. Potter, 316 Fed. App'x 518, 522 (7th Cir. 2009) (quoting New Hampshire v. Maine, 532 U.S. 742, 749-50 (2001)). Judicial estoppel may apply when: (1) the later position is clearly inconsistent with the earlier position; (2) the facts at issue are the same in both cases; (3) the party to be estopped convinced the first court to adopt its position; and (4) the party seeking to assert an inconsistent position would derive an unfair advantage or impose an unfair detriment on the opposing party if not estopped. Christian, 342 F.3d at 747. "Judicial estoppel is strong medicine, however, and it should not be used where it would work an injustice. . . . The rule looks toward cold manipulation and not an unthinking or confused blunder." In re FV Steel & Wire Co., 349 B.R. 181, 185 (Bankr. E.D. Wis. 2006)[5].
Judicial Estoppel Applied in Bankruptcy When Debtor Belatedly Pursues Undisclosed Claim
The doctrine of judicial estoppel is normally invoked to prevent a party from asserting positions in successive judicial proceedings that are so "clearly inconsistent" that accepting the latter position would create the perception that at least one of the courts was deceived. Matthews, 316 Fed. App'x at 522. The doctrine frequently is invoked in connection with bankruptcy proceedings when a debtor has failed to disclose a claim, but then pursues the claim after the bankruptcy concludes. However, "[e]stoppel is an equitable concept, and its application is therefore within the court's sound discretion…. It should not be used where it would work an injustice, such as where the former position was the product of inadvertence or mistake . . . or where there is only an appearance of inconsistency between the two positions but both may be reconciled." In re Cassidy, 892 F.2d 637, 642 (7th Cir. 1990).[4]
Judicial Estoppel Motivates Full and Truthful Disclosures From Debtor Bankruptcy Filings
For example, in the Cannon-Stokes[2] decision cited earlier in these materials, Traci Cannon-Stokes filed a Chapter 7 bankruptcy in which she attempted to discharge over $98,000.00 in debt while at the same time she was pursuing a $300,000.00 claim against her former employer, the United States Postal Service. The Seventh Circuit applied the doctrine of judicial estoppel and held that the debtor's failure to list the potential asset in her bankruptcy would preclude her from pursuing the claim against the USPS. The Court held, "'By making [litigants] choose one position irrevocably, the doctrine of judicial estoppel raises the cost of lying.' Chaveriat v. Williams Pipe Line Co., 11 F.3d 1420, 1428 (7th Cir.1993).[5] A doctrine that induces debtors to be truthful in their bankruptcy filings will assist creditors in the long run (though it will do them no good in the particular case)—and it will assist most debtors too, for the few debtors who scam their creditors drive up interest rates and injure the more numerous honest borrowers. Judicial estoppel is designed to "prevent the perversion of the judicial process," In re Cassidy, 892 F.2d 637, 641 (7th Cir.1990), a fair description of the result if we were to let Cannon-Stokes conceal, for her personal benefit, an asset that by her reckoning is three times the value of the debts she had discharged. It is impossible to believe that such a sizeable claim—one central to her daily activities at work—could have been overlooked when Cannon-Stokes was filling in the bankruptcy schedules. And if Cannon-Stokes were really making an honest attempt to pay her debts, then as soon as she realized that it had been omitted, she would have filed amended schedules and moved to reopen the bankruptcy, so that the creditors could benefit from any recovery. Cannon-Stokes never did that; she wants every penny of the judgment for herself." Cannon-Stokes, 453 F.3d at 448.
Next Article in Series: Chapter 7 and Chapter 13 Bankruptcy Codes Conflict
Sources: [1] Cornell University Law School Legal Information Institute; [2] Justia; [3] OpenJurist; [4] CaseText; [5] CourtListener
Disclosure required by 11 U.S.C. § 528(a)(3): We, the law office of Tom Scott & Associates, P.C., are a debt relief agency. We help people file for bankruptcy relief under the Bankruptcy Code.