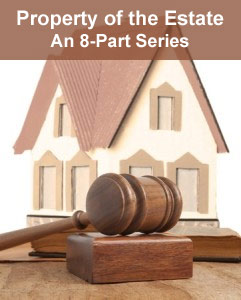 #2 of 8 in Series — Previous Article #1: What Constitutes Property of the Estate in Chapter 13 Bankruptcy and What are the Consequences of Failing to Amend the Schedules?
Debtor Has Duty to Disclose All Assets and Liabilities at Start of Bankruptcy Case
Regardless of whether an asset is property of the estate or not, the debtor has a duty to disclose it. The Bankruptcy Code requires that a debtor disclose all of his or her assets at the commencement of the case. See Section 521* which states "[t]he debtor shall file … (B) unless the court orders otherwise, (i) a schedule of assets and liabilities. One Court has stated "Given the wide scope of § 541*, the debtor's obligation to disclose all his [or her] interests at the commencement of a case is equally broad. Because full disclosure by debtors is essential to the proper functioning of the bankruptcy system, the Bankruptcy Code severely penalizes debtors who fail to disclose assets: While properly scheduled estate property that has not been administered by the trustee normally returns to the debtor when the bankruptcy court closes the case, undisclosed assets automatically remain property of the estate after the case is closed." Chartschlaa v. Nationwide Mut. Ins.Co., 538 F.3d 116, 122 (2d Cir. 2008)** .
The bottom line is that every conceivable interest and future interest of the debtor, such as an anticipated tax refund, must be listed, including:
Non-possessory property, meaning not currently in your possession
Contingent, speculative, derivative investments
Any claim you may have against anyone else, for whatever reason, whether you think it's collectible or not, whether you think it has value or not
Exempt Property and Assets Must Also Be Disclosed
One court has even found that exempt property loses its exempt status and remains property of the estate if the debtor has failed to disclose that exempt asset. In addition, simply amending the schedules after the fact may not be sufficient to cure an error. In the
Yonikus case [974 F.2d 901 (7th Cir.1992)]
***, the Debtor filed amended schedules B and C listing exempt property and claiming an exemption six years after filing his bankruptcy petition. The bankruptcy court denied the exemption, and the district court affirmed that ruling. The debtor's position was that any nondisclosure of a potential workers' compensation claim was not fraudulent, because he believed that he was not required to report totally exempt property. In citing,
Payne v. Wood 775 F.2d 202,, 205 (7th Cir. 1985)
**, cert. denied, 475 U.S. 1085, 106 S.Ct. 1466, 89 L.Ed.2d 722 (1986) the Court held, "[A]lthough amendments before discharge are liberally allowed it is most unlikely that the [debtors] would be permitted to amend. The [debtors'] omissions from the initial list suggest that they meant to hide assets if they could get away with it…. The operation of the bankruptcy system depends on honest reporting. If debtors could omit assets at will, with the only penalty that they had to file an amended claim once caught, cheating would be altogether too attractive. The omission of assets may be a good reason to deny or revoke a discharge."
In other words, it is not up to the debtors, or their attorney's, to determine if an asset has value, it is the job of the trustee. Even if the debtor believes an asset has no value, such as back rent owed by a tenant that skipped out that the debtor thinks is not collectible, it must be listed; the trustee will then determine its value.
Failure to Disclose Assets Can Lead to Bankruptcy Revocation and Criminal Charges
In a
Chapter 7
* setting, a failure to list assets may lead to a revocation of discharge pursuant to
Section 727(d)
* which states:
(d) On request of the trustee, a creditor, or the United States trustee, and after notice and a hearing, the court shall revoke a discharge granted under subsection (a) of this section if—
(1) such discharge was obtained through the fraud of the debtor, and the requesting party did not know of such fraud until after the granting of such discharge;
(2) the debtor acquired property that is property of the estate, or became entitled to acquire property that would be property of the estate, and knowingly and fraudulently failed to report the acquisition of or entitlement to such property, or to deliver or surrender such property to the trustee;
In addition to a revocation, concealment of property can also result in criminal sanctions under
18 U.S.C. § 152
*.
United States v. Cherek, 734 F.2d 1248 (7th Cir.1984)
, cert. denied, 471 U.S. 1014, 105 S.Ct. 2016, 85 L.Ed.2d 299 (1985). "Even if the asset is not ultimately determined to be property of the estate under the technical rules of the Federal Bankruptcy Code, Section 152 properly imposes sanctions on those who preempt a court's determination by failing to report the asset." Id. at 1254. Accord, United States v. Grant, 971 F.2d 799 (1st Cir.1992); United States v. Beard, 913 F.2d 193 (5th Cir. 1990); United States v. Jackson, 836 F.2d 324 (7th Cir.1987). Most importantly, your client may be precluded under the doctrine of judicial estoppel from bringing a cause of action that was not listed, valued and potentially exempted in the schedules.
This point is pretty self-explanatory; If the court determines that the debtor has acted fraudulently by trying to hide any assets, the bankruptcy can be denied and criminal charges can be filed.
Next Article in Series: Debtor Responsible for Accuracy of Bankruptcy Filing Regardless of Legal Advice
* Source: Cornell University Law School Legal Information Institute ** Source: Justia *** Source: OpenJurist
Disclosure required by 11 U.S.C. § 528(a)(3): We, the law office of Tom Scott & Associates, P.C., are a debt relief agency. We help people file for bankruptcy relief under the Bankruptcy Code.